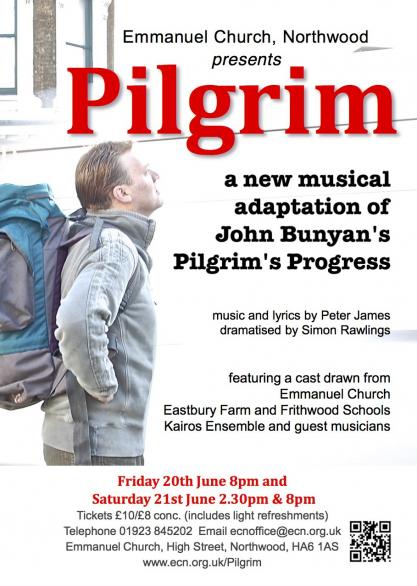 Kairos Ensemble's pianist Peter James has written a musical adaptation of John Bunyan's book Pilgrim's Progress. Kairos Ensemble are delighted to be performing the work as part of a large team...
Following last year's sell-out premiere in Barnet, Peter James and Simon Rawlings have fully revised and expanded their musical adaptation of Bunyan's Pilgrim's Progress for three new performances to be staged at Emmanuel Church, Northwood on Friday 20th June (8pm) and Saturday 21st June (2.30pm & 8pm) 

Featuring a stellar cast drawn from Emmanuel Church, Eastbury Farm and Frithwood School choirs, Kairos Ensemble plus guest musicians.

Tickets: £10/£8conc. 
Contact: 01923 845202 
ecnoffice@ecn.org.uk

The show is family friendly. Entry includes light refreshments.